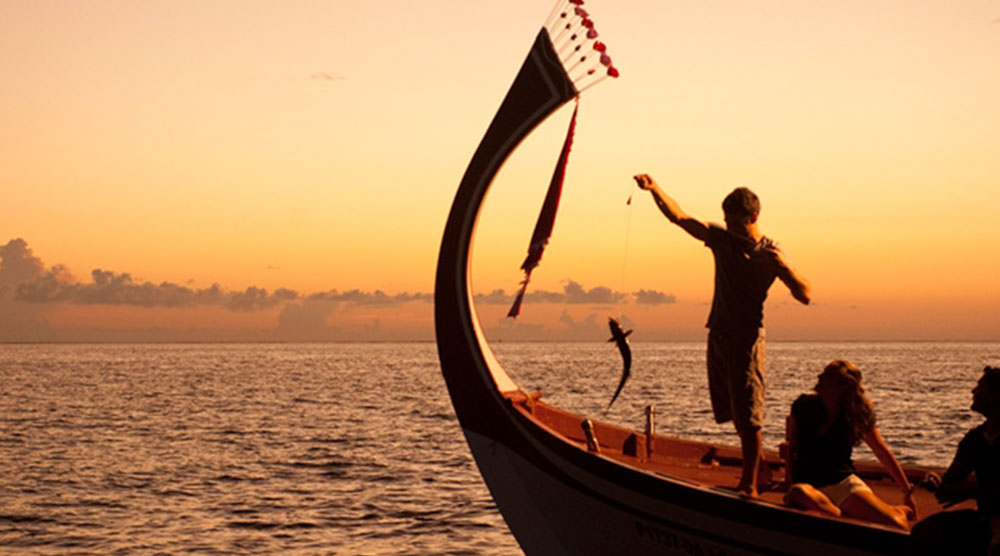 Sunset night fishing
Most hotels are known for their calm environment. Thus, activities and such are usually minimalized just to provide that feeling. But aren't you looking for Hotel that pride in providing different kinds of entertainment that give you the "WOW" factor? If you're, Maladiwa Beach and Spa is the best choice.
Though more famous for its peaceful and quiet environment, Maladiwa Beach and Spa provide a wide array of activities and excursions at your convenience.
As a trip to The Maldives is not to be wasted on only idleness and inactivity, Maladiwa Beach and Spa open up the door towards different kinds of tours allowing you to explore local islands and culture, experience the underwater life or simply enjoy the natural beauty of the Maldives.
In light of Maldivian Culture, it is certain that no other excursion aside from Night fishing will let you experience the Maldivian traditions at its best. The Excursion team of Maladiwa Beach and Spa is definite to provide you with a memorable fishing experience. Doesn't matter if you are an experienced fisherman or not, Night fishing is a fun tour accessible to all guests staying in Maladiwa Beach and Spa.
Your short boat ride to the nearby fishing spot will be scheduled for 1730 Hours. Once you reach, the crew will guide you and explain the ancient art of Traditional Maldivian Fishing. Fishing gears, safety equipment, and bait will be provided to you by our crew members who will be available on reach if in need of any other help.
Enjoy the sunset while fishing the local way, reel them in with your hand line and bait. Just drop your baited lines and wait for the fish to start biting! Once the reeling in of fishes begins, don't be surprised if you find yourself reeling in fishes varying from Red Snappers to jackfish, grouper, or even trevally.
Your adventure doesn't end once you come back onshore at 2000Hours. Depending on the number of edible catches, either you will be invited for a barbeque dinner or the fishes will be prepared for you at the Maladiwa Melon Restaurant for tasting.
What better fishing experience? You get to test your fishing skills, thrill your taste buds and savor the delicacies all in one here at Maladiwa Beach and Spa – Maldives