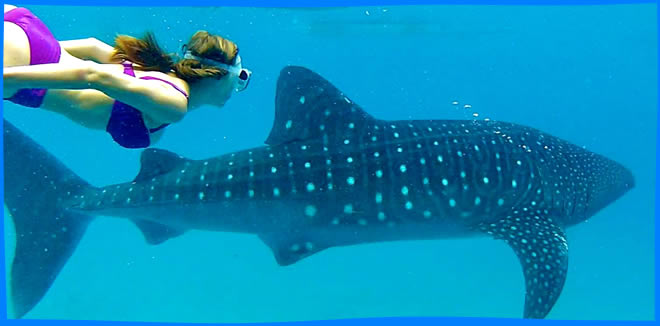 Whale Shark Excursion
Maladiwa Beach and Spa offer a trove of ocean adventures, while it is one of the top resorts for diving in the Maldives, it is also one of the best places in the world to discover and snorkel with whale sharks. Maladiwa Beach and Spa's Whale Shark Excursion gives you the chance to swim with and even photograph these majestic creatures.
Whale sharks are the largest fish in the world and can reach up to 12 meters in length and 20 tons in weight. They are filter-feeding, pelagic fish that can dive deeper than 1,000 meters and mainly feed on plankton.
They tend to favor the western side of the Indian Ocean archipelago from May to December and then move to the eastern waters from January to April. Although not guaranteed, they can be seen around the South Ari Atoll all year round.
This excursion is for swimmers only.
Snorkeling equipment and a picnic lunch is included with water and soft drinks.

The Whale-shark Excursion is scheduled from Saturday to Thursday from 09:00 – 16:00hrs.
Price: US$90 per person.
With a minimum of 6 persons required per trip.
The minimum age is 12; all children under the age of 16 must be accompanied by a parent.